** ALL FOOTBALL PROGRAMS CLOSED FOR 2017 DUE TO LACK OF PARTICIPANTS **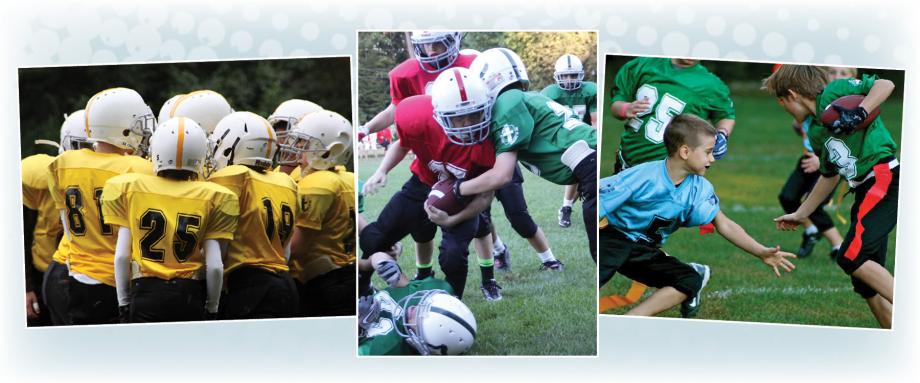 State College Assembly of God Boys Developmental Football Program
Serving the State College Community for 22 Years
SCA's Boys Developmental Football Program features fall programs for boys ages 6-13. Click on the links below for more details regarding our flag and tackle programs.
The State College Assembly of God Boys Developmental Football Program has a two-fold purpose. The first is to teach boys about who Christ is and how we apply our faith in all areas of life, including football. We will emphasize character development and Christian values. Second, the program develops fundamental individual and team football skills and techniques in boys who have an interest in playing football. We will emphasize conditioning, flexibility, fitness, dedication, and good sportsmanship.
Christian Faith:
We are a Community Christian Program. Each practice, game, meeting, activity, etc. will have Christian prayer. Coaches will lead out in prayer (players may also if they desire). Coaches and Volunteers will also share scriptures and how they apply to today's challenges and opportunities for the boys. All participants will be expected to treat others as they would want to be treated. Foul language, fighting, taunting, trash talking, etc. will not be tolerated.
The theme verse for our program is Ephesians 6:13-18.
13 Therefore, put on every piece of God's armor so you will be able to resist the enemy in the time of evil. Then after the battle you will still be standing firm. 14 Stand your ground, putting on the belt of truth and the body armor of God's righteousness. 15 For shoes, put on the peace that comes from the Good News so that you will be fully prepared. 16 In addition to all of these, hold up the shield of faith to stop the fiery arrows of the devil. 17 Put on salvation as your helmet, and take the sword of the Spirit, which is the word of God. 18 Pray in the Spirit at all times and on every occasion. Stay alert and be persistent in your prayers for all believers everywhere. - Ephesians 6:13-18 [NLT]
---
Questions? Please email our Program Director via the information below.